Have you ever wondered what a hair rig is and how it could be better than a standard fishing hook? I definitely did when i first start carp fishing and I'm sure a lot of you will be the exact same.
At first glance it would seem that having the bait away from the hook could be counter-productive and could result in carp stealing your bait and not getting hooked, but believe me this is very unlikely when using a hair rig.
The hair rig provides a lot of benefits to carp anglers which can ensure you hook more fish and greatly decrease your chance of losing fish once hooked.
In this post I'm going to be answering the question of "What are hair rigs?" and providing in-depth information surrounding;
What exactly are hair rigs and where did they come from?
The types of hair rigs available
Benefits of hair rigs
What are Hair Rigs?
Since you are here I am assuming you are looking to find out exactly what hair rigs are and how it can benefit your fishing. Well you're in the right place.
Hair rigs were first invented and trialed in the 1980s by Kevin Maddocks and Len Middleton, two of the largest names in carp fishing at the time.
Since then, this method has revolutionized the carp fishing game and hair rigs are common place in carp anglers tackle box across the globe.
So what exactly are hair rigs? Hair rigs refer to the method of attaching the bait to the hook without having to pierce the hook directly into the bait of choice.
As you all know, carp may seem smarter than you'd initially have thought and can actually shy away from baits that don't quite sit right in the water.
Carp also suck baits into their mouth to taste before they fully consume them so if they taste something strange like a hook they will immediately spit out the bait which results in another missed bite.
So basically this is why hair rigs were invented. Kevin and Len realised this was a major issue and spent many hours testing a rig using a real piece of human hair to attach the bait inside test tanks with captive carp.
This is where the name hair rig originated from. As you can expect hair rigs using real hair when not exactly the strongest but they worked excellently by allowing the bait to act naturally while attached a short distance from the hook.
When the carp suck the bait into their mouth when a hair rig is used they more often than not will consume the full bait which will pull the hook into their mouth a short distance behind the bait.
As the carp moves away your feeder or attached lead will set the hook and the carp will run in alarm which further sets the hook.
Due to this hair rigs are classed as self setting rigs and usually the angler will not need to set the hook.
With the development of modern materials and strong braid the real human hair has been swapped out years ago but the hair rig name still stands.
Types of Hair Rig
Over the past few decades the hair rig has grown into a staple piece of kit for every carp angler and along with this different rig variations where the bait is not directly attached to the hook have been developed.
A few of these are the chod rig and zig rig but I suppose these are not necessarily hair rigs but they still use the idea of attaching the bait away from the hook.
Within this section I'll give you a quick run down of the most popular hair rigs and what fishing situations they are best used within.
Pre-tied Rigs
Pre-tied hair rigs have become the go to option for the short for time or "lazy" anglers and provide the option to substantially reduce tackle set up times leaving more time for the actual fishing.
I have been partial to use pre-tied rigs ion a lot of cases myself and I have even written a tutorial on how to set up a method feeder using a pre-tied hair rig.
You can find them in hundreds of variations but most commonly they will the following elements will vary;
Hook Size
Barbed or Barbless Hooks
Hook Lenght Length
Hair Length
Line Strength
Banded or Stopper on hair
Line Type
Since their are so many variations you will nearly always be able to find something suitable and this is why pre-tied hair rigs are so popular today. It really is as simple as taking one out the packet and connecting it to your rig. Due to this the perfect hair-rig for
Snowman Rig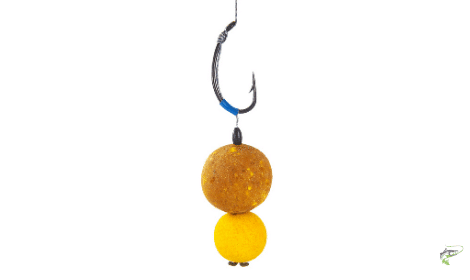 Snow man rigs have become a favourite for many anglers throughout the year. I suppose the "snowman" rig refers to the bait and how it is presented and the rig itself is basically just a long hair rig.
The name comes from the "snowman" appearance of a large standard boillie and a smaller pop-up on top. By doing so the rig will sink slowly onto the lake bed but will also fly up quickly into the mouth of investigating fish.
This is allows the hair rig set up to act in the most natural manner and mimic the way in which the "safe" loose feed reacts in the water to trick the carp into taking your bait.
The buoyant pop-up also sits above the normal boillie on the bottom which helps to attract the carp in the area as the colours and slightly raised appearance will stick out considerable.
Various Hair Lengths
Hair rigs can be tied with various lengths of hair or bought pre-tied according to your need. When fishing a single pellet or boillie a short hair is suffice but as soon as you want to jump up to 3 pieces of corn or similar a larger hair is required.
Your hair should be tied or bought so the bait does not touch or interfere with the hook and has enough room to move in the most natural manner without straying too far from the hook.
When fishing for tricky fish short hair rigs with your bait close to the hook increases your chances of hooking into inquisitive fish that are checking out your bait.
Benefits of Hair Rigs
It is no wonder that hair rigs have developed so quickly over past few decades and are now used by the majority with the massive benefits they provide. If you do not already have a section of hair rigs in your tackle box then heres why you should;
Carp will be less likely to reject your bait. As I mentioned previously carp suck up bait before fully consuming it as a means of tasting and inspecting the bait. If you have a cook buried in your bait it is likely the carp will reject the bait which will result in a missed fish.
Baits act far more naturally when attached to hair rigs so once again carp are less likely to be fooled and take the bait.
Having the full hook exposed means you are more likely to hook into a fish if it takes your bait. If you placed bait directly onto the hook the point could be hidden.
There are various options that provide you with a wider selection of how your bait will be presented.
A wider range of bait can be used. For example, fixing a hard boillie or pellet onto a hook is near impossible without it crumbling but by drilling a hole or using a band they can be fixed onto hair rigs easily.
Bait is less likely to fly off during the cast or be snatched by small nuisance fish when fixed on a hair rig. Most carp fishing venues don't allow barbed hooks so if you were to directly hook bait onto a hook it could very easily slide off.
Now you know!
I'm sure you now have a good understand of what hair rigs are and how they can improve your carp fishing efforts. They have become increasingly popular since their creation in the 1980s and for good reason.
As you can see their is a wide range of benefits of using a hair rig for carp angling and a lot of other coarse species for that matter. If you have anything to add or any questions at all feel free to leave a comment below and I will get back to you ASAP!