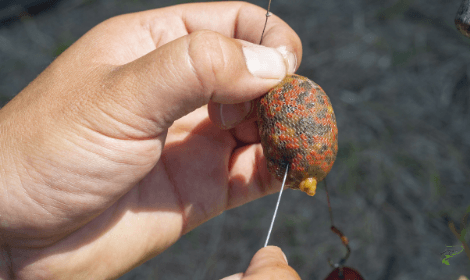 PVA bags are an incredibly powerful tool in the carp fishing world. These bags when filled with bait and cast into precise fishing locations dissolve and spread that carp munching goodness around stealthily hooked presentations. Let's take a closer look at PVA bags for carp fishing and how to use them successfully.
What are PVA Bags?
PVA bags are a water soluble clear plastic like bag that were first used in the medical fields for single use disposal of heavily soiled and contaminated items.
In the carp fishing world, PVA bags and nets are used to hold various quantities of bait that can then be spread in a precise area similar to spodding.
The PVA bags take a small amount of time to dissolve and the bait settles on the bottom without all the splashing, water, and fish disruption that spodding and spombing can do.
Solid PVA Bag
Solid PVA bags, as you'd expect, are full bags and they can be used for any carp feed at all. This can even extend to groundbait. As PVA bags melt with contact with any water, any wet mixes such as mixed pellets, spod mixes or pre-mixed groundbait will melt the bag before you make a cast.
If you want to use groundbait then the solid PVA bags will be suitable.
Mesh PVA Bag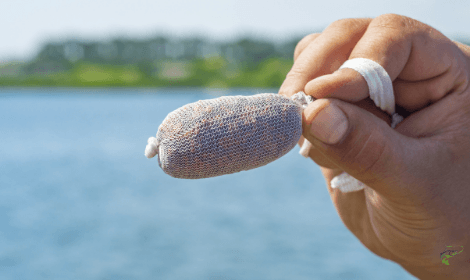 The mesh PVA bag on the other hand are best for whole dry baits such as boilies, dry pellets or anything else you like really as long as it is dry.
The mesh allows the bag to break down a little quicker in the water but this shouldn't make too much of a difference.
You'll most commonly see mesh PVA bags being used due to convenience. stocking cylinder kits can be bought and used so your bags can be cut to specific sizes depending on the circumstances.
When and Why You Should Use PVA Bags
One of the biggest reasons to use PVA bags is to keep your hook and the free bait offerings localized. Unlike spodding and spombing, where your casting accuracy can affect the location of your free bait offerings, your hook with PVA bags is directly in the free bait offerings, giving you a much higher chance of the carp sucking up that hook.
This bait offering where the hook is directly in the free bait offerings is much easier to present by simply casting the bag setup in the desired spot, when using spodding techniques you are required to cast accurately multiple times in the same area.
While spodding definitely has its time and place, such as large swims where cover more of an area with bait may be preferred, using PVA bags presents an offering that is much smaller and is great when used in precise spots where you know fish frequent, like around cover such as brush pile or a pocket in a weed bed.
PVA bags work great in the cold winter months as well. Carp eat much less in the winter and the smaller PVA bags work great at bait small amounts of bait in one area allowing you to have better odds at the carp picking up the hook.
Best PVA Bag Rigs
Rigs that work good for PVA bags are actually pretty standard and simple. We would recommend using soft braided rigs when it comes to solid PVA bag rigs.
This line type will allow you to coil up your rig in the bag without the risk of damaging or fraying the line with your hook.  Shorter rigs also work well with larger hooks than normal, size 4 hooks typically. 10 mm pop-up boilies can work good in PVA bag fishing as well to help your bait stand out among the free offerings.
You can also rig up the bag with the bait inside as mentioned earlier, but you could also have the rig set just outside the bag with the weight and majority of the rig inside the bag with the bag tied to the line.
PVA Bag Pros and Cons
Pros
Dissolves quickly
Fairly easy to rig
Great for fishing very specific and small spots
Cons
Depending on needs, bait amount might be to small
Can tear open if your not careful
 One time use
That's All!
PVA bags can be a great addition to your fishing gear and tactics. Using them is pretty straightforward and can be incredibly effective which I'm sure you can see from this small post. Though they may not be the answer for every situation on the water and for every season, using them at the right time can really pay dividends.
If you have ever wondered if PVA bags are superior to the method feeder then take a read at this post.