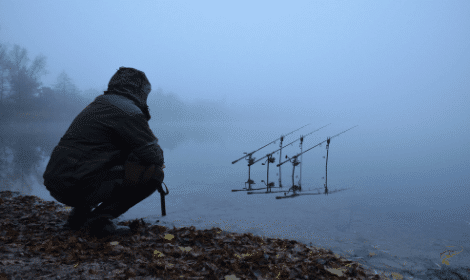 If you are bold enough to venture out carp fishing when temperatures are low throughout the winter months then you could potentially have a tough time. Not only is the weather less than pleasant weather but unfortunately carp are quite often far harder to catch through the winter months.
As the cold weather sets in and water temperatures drop as the winter approaches the carp become more lethargic and less likely to be feeding heavily.
As carp tend to move around less hunting for food during the winter it is imperative that you find the carp and be prepared to move if there is no activity from carp in your swim.
As fishing for carp during the winter months can be extremely challenging and a lot harder than summer  and autumn carp fishing I've decided to write a list of 11 winter carp fishing tips to help all the anglers that are bold enough to venture out into the freezing cold.
1. Be Prepared to Move
As I mentioned previously before, carp are far more lethargic in the winter and tend not to be roaming the waters searching for plenty of food.
In the Summer quite often you'd bait up, cast out and the carp would find your free bait in your swim and group up waiting to be caught.
Unfortunately this is not the case in the winter and you need to do the moving around yourself.
The reality is the carp could be in the shallows, deep holes, holed up against features or anywhere in between during the winter and you just can't guarantee where they are going to be.
If the fishery you are fishing contains a healthy stock of carp and you've not so much as had a line bite in the swim you are fishing then it could be time to pack up your gear and move.
If you are not prepared to pack up and move frequently until you find the fish then winter carp fishing is probably not for you.
2. Watch for Line Bites
As you're going to be casting and moving regularly to find the fish you're going to want to know when you've found a swim that has active fish in it and line bites is a great way to tell.
Line bites occur when a fish touches and moves your line in the water which results in your quiver-tip twitching or your bait alarm letting out a slight beep.
If you are not catching instantly but are getting a line bite here and there then the chances are the carp are in your swim slowly making their way through your loose feed.
If you find a swim where you are getting line bites but no fish don't give up instantly. Fish this swim for a hourish until the line bites stop or you catch yourself a fish.
Line bites can also happen anywhere along your line in the water and not just near your hook bait. Pay attention to where you line enters the water and cast all around this area to find the fish touching your line in the water.
3. Ask Around
Speak to other anglers on the venue, the fishery boss or even ballifs to try to work out where the carp are, when they are feeding and how they have been caught recently.
This can take away a lot of the guesswork and help you get to know the venue you are fishing very quickly to hopefully catch some fish in the winter months.
By doing this you can find out exactly what pegs are more promising in the colder temperatures.
4. Try the North-East Corner
A few anglers stand by fishing snags in the north-east corned of lakes during the winter months. The north bank will get the most sun and the north-east corner should avoid most of the chilling effects of the cold winds.
If there any snags in the north-east corner then it's definitely worth a try.
5. Fish Where the Food Has Been
As the carp are more lethargic during the winter and tend not to travel and look for food they will typically group up where they know there is a constant supply of food.
If anglers are typically baiting up a certain spot consistently the fish will know this during the winter and start to group up in this area looking for their free food.
You can easily take advantage of these spots and almost be certain the carp will be close by which is half the battle.
If you live close by to the venue and have some extra time on your hands you can create this yourself for an approaching fishing trip.
If you feed small quantities in a swim every few days the carp tend to revisit this location often looking for more food.
This will build the carp's confidence in this area and greatly increase the chances of catching them on your next fishing session.
6. Watch The Weather
As usual the weather can have a massive effect on where the carp will be and if they are feeding or not. Unfortunately carp don't completely conform to a certain way to act depending on the weather but we can at least get a slight idea of what usually happens.
A large influence on carp fishing especially in the winter is air pressure. High pressure systems are associated with clear skies, sun, cold temperatures and frost in the winter which is not necessarily good for carp fishing.
A low pressure system brings cloudy windy and quite often wet conditions that are better suited to carp fishing. These low pressure systems bring milder weather than can heat the water just a degree or two if they stick around for as whole.
This can bring the best time to fish for carp in the winter as the water becomes more oxygenated and slightly warmer which can see the carp feed more heavily.
7. Try Pop Ups
Bright fluro pop-ups are the go to for the winter carp anglers. These visual colours allow your bait to stand out in the winter and can bring carp in from surrounding areas if the water is clear.
Autumn leaves, twigs or dying back weeds also litter the lake bed during the winter months so bottom bait rigs are quite often pretty useless.
Pop-ups also generally provide a fast response if they land on or near carp. They tend to take them almost immediately if they fancy it so you should be getting quick indications if you are fishing a fish with hungry carp or not.
In the winter as well bigger is not always better and it's best to fish pop-ups of around 10mmish.
8. Recast Regularly
In the winter your bait should never really be left out for more than half an hour to an hour.
If nothing happens within this time frame you can almost guarantee that there are no feeding carp in the area and you are wasting your time.
After this time reel your rods in, re bait and cast again in a new location.
9. Use Liquids and Dips
Liquids and dips really help in taste and smell stimulation and can massively help to bring nearby fish into the are and investigate your hook bait. When carp are slow feeding these liquids and dips are essential to maximize your chances of a carp picking up your hook bait.
Dip your hook bait after every cast or add liquid to your groundbait to maximize your chances.
10. Watch the Water
Pay close attention to the water in order to locate the fish. If you see just one fish show itself on the surface then the chances are there's a lot more fish with it.
It may not be the most pleasant to sit out in the open constantly watching the water in the cold and wet weather but if you can place your bivvy somewhere that you can see the water then this can be ideal.
11. Downsize Baits
Smaller baits tend to be the most successful in the winter months and there is definitely no need for massive boilies or pop-ups to risk over feeding.
Smaller baits allows for more free offerings without the risk of overfeeding and turning the carp off the feed.
That's all you should need!
Yes, catching carp in the winter is going to be extremely difficult. As much as we don't like the freezing cold and rainy weather the carp arent fans of feeding in it often either.
If you are willing to brave the elements then these 11 tips will definitely help and make the difference of a few fish on the banks or none at all.
If you are looking for more tips on how to fish in different weather conditions take a look at these two posts;
So remember, follow these 11 winter carp fishing tips;
Be prepared to move
Watch for line bites
Ask around
Try the north-east corner
Fish where the food has been
Watch the weather
Try pop-ups
Recast Regularly
Use liquids and dips
Watch the water
Downsize baits
I hope you have found this post helpful and if you have any questions leave a comment below and I will get back to you ASAP.