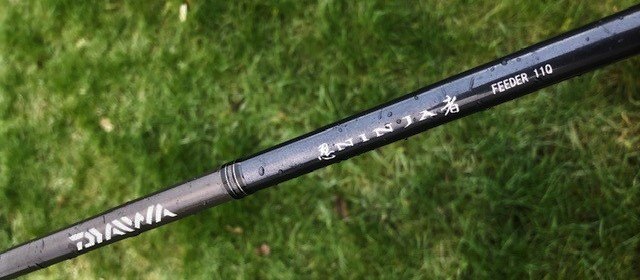 If you are here because you are thinking of buying Daiwa's ninja feeder rod then you're in the right place. If not I can almost guarantee you'll want to add this rod to your tackle collection after reading this review.
In this Daiwa Ninja feeder rod review you'll find my personal experiences as it has been my go to rod for a good few year's now (for good reason) and I've definitely put it through its paces on countless sessions on the banks.
Daiwa have proved themselves time and time again that they can provide top quality rods without the hefty price tag and the Ninja feeder is no different.
The Ninja feeder has the potential to meet the beginners and experienced anglers needs for the small price of only £48. It really is hard to believe.
In this price bracket The Ninja feeder offers unrivalled power, excellent control and robustness all packed into a slim appealing and well-balanced blank that reflects the quality of the Daiwa brand. For the price this rod really is the whole package. The commercial carp anglers dream!

Action
The Daiwa Ninja feeder provides action close to a through action rod with a slightly stiffer mid section.
Action refers to how your rod will bend when put under pressure from a fighting fish.
The through action of this rod allows it to flex effortlessly near enough all the way to rod handle providing more power the further it flexes to tame the real hard fighting fish.
Even though this rod is light the action and power provided is far from light.
The through action of this rod cushions all the runs and yanks from hard fighting fish and the sensitivity makes for an exciting fight as you'll feel every turn and pull from the fish right through to the handle, keeping that adrenaline pumping.
The through action is fairly forgiving on the fish which will result in less hook pulls and less lost fish. Surely that's what we all want?
This rod has shown me countless times that it has no issue controlling fish up to 15lbs. But like anything there is also a few drawbacks.
This rod is mainly for targeting fish up to around the 15lb pound mark. Any heavier and you might run into some trouble stopping and fighting these brutes. But what can you expect for £48?
If you are planning on fishing commercial fisheries stocked with plenty of fish up to 15lbs you will be guaranteed endless fun catching fish with ease.
Quiver Tips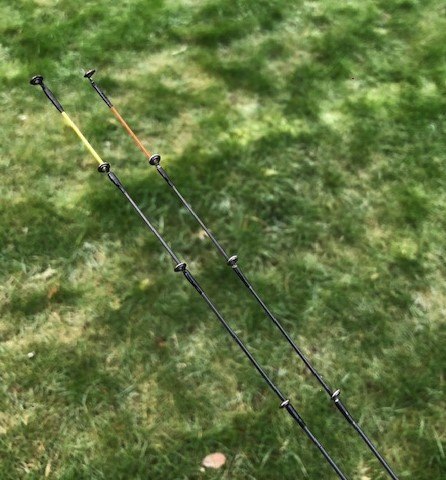 The Daiwa ninja feeder is supplied with two quiver tips at 1 oz and 1.5 oz unless you opt for the 13ft rod which comes with two tips at 1.5 and 2 oz.
The quiver tips are well-balanced and of decent quality.
The fine well-balanced tips provide good bite detection to ensure no bite is missed. Like most quiver tips they come with fluorescent end markings to ensure they are easy to watch in all weather conditions.
The quiver tips taper nicely into the end section and add to the clean look of this stunning bit of tackle.
The rings on the quiver tips are adequately sized so larger knots can pass freely through them which seems to be a downfall for many feeder rods.
Like all quiver tips they will break very easily if not looked after properly but this can be expected.
Luckily Daiwa provides replacement quiver tips that can be purchased for £5 so I wouldn't worry about this too much.
Personally I feel this rod should come with a slightly heavier tips for the windier days as I have found the 1.5oz tip seems to sway too much in the wind making it difficult to differentiate to bites and wind play.
But for a rod at this price you can't have it all!
Reel Seat and Handle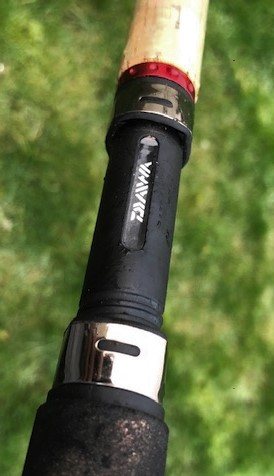 The DPS reel seat is of good quality and has never provided any issues for me. It has been no issue to fix varying size reels and hold them there. For this price you can't expect "extras" such as the reel seat to be of exceptional quality.
That being said the reel seat certainly doesn't take anything away from the overall quality of the rod. The rod has provided the basics to an exceptional and modern standard.
The Ninja feeder offers a well-balanced and stylish handle. The handle has a cork and EVA grip section.
It's not very often you find a rod with a cork handle in this price range and not only does it look the part it also provides a good few benefits.
If you are one for your winter fishing sessions the cork handle will retain residual heat, in simple terms the handle will be warmer to touch which can be an absolute game changer when your hands are freezing.
Cork handles also provide higher sensitivity than shrink wrap or full EVA handles. This will be sure to keep you in complete control of hard fighting fish and also keeps the adrenaline pumping with every fight.
The handle is also fairly grippy even when wet which will help reduce the chance of dropping your new rod in the dirt or the rod slipping out of your hand when fighting a tricky carp.
The handle helps cement the over all quality of this rod and shows the high level of effort that's been put into designing a rod with such high quality with such a small price tag.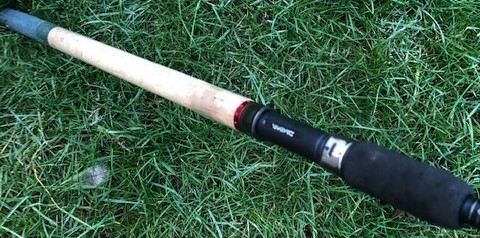 Lengths

The Ninja feeder can be bought in 4 different lengths to suit your fishing needs. Personally I've been using the 11ft rod as I prefer to fish margins or close features and the 11ft rod is excellent for just that. Infact the 11ft seems decent enough for fishing up to 50ft with accurate casting every time.
If you are one for fishing at far distances you can bag yourself a 12ft or even a 13ft rod. Personally I can't comment directly on their performance but it can be almost guaranteed they will perform near enough identical to the 11ft as they are all from the Ninja feeder family.
The Verdict

The Daiwa Ninja feeder is a rod that I would recommend to anyone (especially beginner carp anglers). I've been using this rod for a few year's nothing and have very little to fault it for.
Fishing commercial venues with carp up to 15lbs has been no issue for the Ninja Feeder.
The power provided from the rod is great considering how light this rod feels in the hand. If you are looking for functionality and like to have some visually appealing tackle on the bank then the Ninja feeder could be one for you. For the price of £48 you really can't go wrong.
Don't just take my word for it, give it a go! Please feel free to add your options of this rod below and if you have any questions I'll be happy to answer them.
If you are still not sure on the Daiwa Ninja feeder feel free to have a read at my cheap carp fishing rod post for some other worthy suggestions.